Money Talks - Where is The Money This Year?
by Hollywood's Dublin Duffy
"Any horse can win on any given day." Angel Cordero, Jr. (US jockey)
A topsy-turvy betting market from day one for this year's Vodacom Durban July. The original declarations excluded several horses that many expected to be in the running and consequently Hollywood took the bold step to bet on 'First Acceptors only', assuring punters that should other horses be declared to run, they would not form part of this original July field.
Cape champion Capetown Noir was a weak 7/1 favourite with star-mare Beach Beauty priced up at 8/1 alongside last year's favourite Jackson. Bookies took no chances with 'talking horse' Yorker priced at 12/1 and he was backed in to 9/1. The Gauteng Guineas winner Tellina was on offer at 10/1 and Liancourt Rock was an early fancy and shortened from 33/1 to 20/1 while last year's winner Pomodoro was freely on offer at 16/1.
Vercingetorix
Other horses to attract money early on were Hill Fifty Four at 25/1, King Of Pain at 40/1 and Run For It was backed from 66/1 to 30/1.
In early May, the De Kock yard saw fit to nominate rising star Vercingetorix and he topped the boards at 6/1. Then came the expected declaration of Cherry On The Top which was immediately installed as the new favourite for the race at 5/1 with everything else drifting a point or two or more.
At this stage Pomodoro was on offer at 20/1, Run For It was at 25/1, Hill Fifty Four was at 25/1 and Wagner had been backed from long odds of 125/1 to 40/1.
Jet Explorer burst onto the scene as a potential July winner with an emphatic victory in the Greyville 1900 and was immediately nominated by his connections. He was generously priced up at 40/1 initially but those odds tumbled to 20/1 very quickly.
Cherry On The Top
The betting was put into a spin when the 3-year-olds' form was turned upside down with Do You Remember accounting for Cherry On The Top in the Woolavington and Vercingetorix winning the Daily News in a blanket finish. Cherry On The Top eased in the betting and Do You Remember shortened from 40/1 to 14/1 for the 'Igugu' double.
The Daily News blanket finish included No Worries and Wylie Hall which both suddenly became 'big runners', while Vercingetorix was reported as a doubtful starter by his connections. In addition, Cherry On The Top was withdrawn from the race. All the while there was talk that the Snaith stable had planned a different route for the recently gelded but quality performer Run For It. He cantered home in a plate race, defeating Summer Cup winner Wagner and he shifted to close to the top of the boards.
And so to the final field. Who would get in, who would be left out? An unenviable task for the panel. They were on a hiding to nothing and a hiding they have received! The main gripes have been the omission of top 3-year-olds Tellina and Rock Cocktail but that's a debate for another time.
Pomodoro
Tarry Power
The Tarry yard is looking for a double. Alongside last year's winner
Pomodoro
they have the consistent
Heavy Metal
,
Whiteline Fever
and
E-Jet
. The strength of money would tell you that
Pomodoro
is the right one from the stable as he has been backed in to outright favourite at 4/1. Can he do the double and emulate some champions of the past? He will get all the assistance from champion elect, jockey Piere Strydom but he does shoulder top weight of 60kg.
Heavy Metal
opened at 33/1 and is now trading at around 22/1, while
Whiteline Fever
who was best-priced at 55/1 is on offer at 20/1.
E-Jet
is the outsider from the stable at 25/1, with 80/1 having been traded in the early market.
The Snaith yard has two huge runners in the race.
Run For It
has been solidly supported and is now clear second favourite at 6/1 (some shrewd punters got 66/1 in the early betting) while
Jet Explorer
is currently at around 8/1. Both horses have top class jockeys and will no doubt be in the firing line.
The Classic Horses
The three-year-olds in the race are headed by
Capetown Noir
. Trained by the hugely experienced Dean Kannemeyer, this is a top horse who is still available at generous odds of 15/2. The July has been his target from the get-go and he has been at or near the top of the bookies boards from the beginning. The only question mark is, will he stay?
Wylie Hall
has shown some tremendous form in Gauteng and confirmed his well-being in the Daily News. From an opening call of 100/1 he is currently trading at 14/1.
Capetown Noir
Similarly
No Worries
was a late nomination on the strength of his Daily News run and he is available at 30/1, easing from 16/1 after drawing a wide barrier position.
Classic winner
Love Struck
comes into the race as a 66/1 chance despite winning features in both Cape Town and Johannesburg, while the well-travelled
Wild One
from the modest Jeff Freedman yard would be a fairytale winner at 40/1.
The one-time winner, surprise inclusion,
Gothic
is a 66/1 chance in anybody's book but who's to say he can't run a place – remember the Oppenheimer/Azzie Service Ace who ran fourth a couple of years ago at 100/1.
The only filly in the race is the Woodruff trained
Do You Remember
. A model of consistency, she cracked a graded victory in the Woolavington and clearly has bundles of class. On offer at 33/1 she would not be a surprise winner. Remember too that Woodruff is the son-in-law of Terrance Millard who trained so many fillies and mares to win this race.
The Hard-Knockers
Top of the list of hard-knocking racehorses must be
Hill Fifty Four
. A gutsy Cape performer, just short of top-class he now trades at 13/1 after being a 25/1 shot in the opening betting.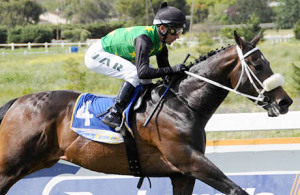 Hill Fifty Four
Seal
is as tough as they come. Best suited to maybe a furlong more he again showed true grit in winning his latest start to assure himself a place in the July. Currently on offer at 18/1, he was as big as 110/1 a couple of months ago.
Astro News
has done his share of travelling to Cape Town, Gauteng and now KZN but he showed he is worthy of his place with a facile win at Clairwood in the Cup Trial. Originally priced at 70/1, he eased to 125/1 in May but is now being solidly supported at 18/1.
Tribal Dance
is another tough and genuine sort who featured prominently in the Greyville 1900 after a stint in Cape Town. He is on offer at 30/1 from a best priced 45/1 in mid-June.
Lucky to be There
With the controversy over the final field there are a couple of horses who must be considered lucky to be in the race. Apart from the marginal 3-year olds,
Punta Arenas
falls into this category. Whilst his trainer, the canny Stan Elley, has maintained he has targeted the race all along, the horse's form certainly falls short of a likely winner. However, he was backed from an early 100/1 to 33/1 and now trades at around 22/1.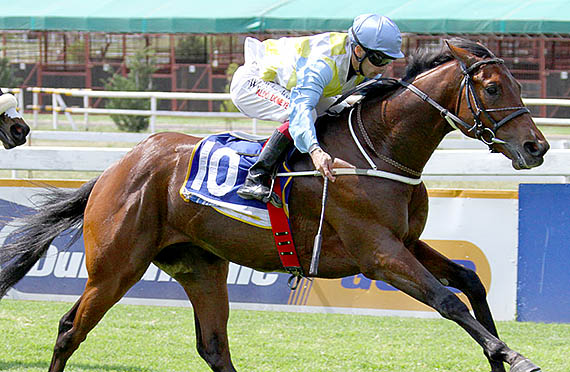 Puntas Arenas
Shogunnar
, although only a one-time winner has been consistently placed in feature races and the question must be, does he have the improvement to win this? Currently at 16/1 there was 66/1 in the opening betting.
The Summer Cup winner
Wagner
will come into this race as an 'alumite strike' and he is available at 20/1, a fraction of the 350/1 taken back in May!
Conclusion
In summing up, this is the most open July in years. There are many punters with 'great' prices taken on their horses but there will only be one victor.
Will the holders of 66/1 Run For It cash in, or will the punters with 110/1 Seal or 350/1 Wagner be waving their winnings about. When in doubt, go with you first feeling.
For me that's Capetown Noir. No doubt he will be primed to perfection and I fancy him to get home from Pomodoro, Jet Explorer and Do You Remember.
Study your
Winning Form
(all the winners are there), work it all out and have a punt – there's no better fun than backing a July winner!!
If you haven't got an account, click here to open one here!