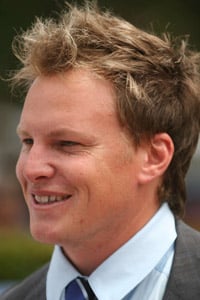 Cape Town based trainer JUSTIN SNAITH took out his licence just over a decade ago but has firmly entrenched himself as one of South Africa's leading racehorse trainers. He has a great team behind him of former trainer, his dad, Chris Snaith and brother, Jonathan and together the Snaith team are having their best season ever. The yard has already amassed a whopping 173 winners this term, and even achieved a South African record feat of 7 winners on a day from their Port Elizabeth satellite yard, recently. Justin has already won the country's most prestigious race, the Vodacom Durban July, courtesy of a dead-heat and will be looking to get an outright win in this year's running of the race. He saddles two very well handicapped runners, RUN FOR IT and JET EXPLORER in the big race and gave his horses every possible chance by drawing them at barrier 1 and 2, respectively. Snaith was upbeat about both his runner's chances, prior to the draw and that confidence must have risen since. WINNING FORM wishes Justin and the Snaith team everything of the best for the big race and will be following his runner's progress with plenty of interest.
What is your name?
Seamus Justin Snaith. Jonathan couldn't pronounce Seamus as a kid so I luckily got stuck with Justin!! My father got Seamus out of a Louis L'Amour novel.
What is your star sign and birthdate?
Let's just say I come from an era when Vanilla Ice was taken seriously. Sagittarius is my birth sign.
Where were you born and where did you grow up?
I was born on our original farm in Muizenberg. My father used to train his horses on the beach. We lived in Marina De Gama back then and it was an awesome place to grow up, in those days.
Where do you live?
I live on our farm in Cape Town. I feel it is important to be close to my horses.
Tell us about your family?
My father Chris was a champion trainer and true horseman, one of the greats in my eyes. My parents met when they were both show jumpers and so it started. My brother Jonathan and I are a great team and respect each other.
Do you have a 'nickname'?
A certain prominent trainer (who looks very similar to the artist Meatloaf) has been known to call me "Bieber".
Jonathan, Chris and Justin Snaith with Gaynor Rupert
Favourite food?
Mike de Kock.
Favourite drink?
Jameson when things are going well. Green tea when things aren't.
Favourite music?
U2, Coldplay and the latest dance stuff like Swedish House Mafia.
Favourite sport?
I love playing polo as it keeps me with horses and I used to love playing rugby. I played first team for False Bay Rugby Club. Let's also not forget about the Sport of Kings :) I love the game.
Favourite author?
Karel Miedema :)
Favourite soccer team?
Proudly Bafana Bafana.
Favourite holiday destination?
Kenilworth racecourse (I don't get much time to take holidays).
What book are you reading at the moment?
WINNING FORM :)
Which characteristic about yourself do you like the most?
That I hate losing :)
Is there anything the public don't know about Justin Snaith that they would be interested to know?
I can run a half-marathon in under 85 minutes.
Chris Snaith and Justin Snaith
Who is the one person that you would most like to meet?
I've met him already – my father.
Where did you go to school?
Wynberg Boys High School.
What sort of student were you and what did you really enjoy studying?
I was excellent at drawing and woodwork!
What tertiary education did you attain?
After Matric I flew to Australia to work for David Hayes. I never wanted to do anything else but train horses so my next few years were all geared around making me the best racehorse trainer I could be. Jonathan completed his Bachelor of Commerce degree during this time.
Was it ever your dream to become a jockey?
Yes, I rode in amateur races and held the record of 11 straight wins. When I was 16 I applied to become a professional jockey and was luckily turned down. I'm about 30 kilos too heavy these days.
How did your life map out upon completion of your schooling career?
I never took a gap year and went straight into what I love – training horses. I worked under David Hayes for a year in Australia where I learned so much. I started training when I was twenty five years old with a small yard of 22 horses. My father taught me a lot and most importantly, that your reputation is everything.
What year did you take out your trainer's licence and how many horses did you start with?
In August 2000 and I had 22 horses at the time.
Mention some of the better horses that you worked with early on in your career?
In Australia I looked after Jeune who won the Melbourne Cup. I also used to ride horses like Flaming Rock, Cordocelli, Trojan Belle and Joie De Grise in work. I still ride certain difficult horses when needed.
Do you recall having your first runner as a trainer and your first winner?
Yes, Park Lane for Laurie and Jean Jaffee. My first runner was a winner. She also became my first feature race winner when winning the Odessa Stud Fillies Championship, a month into my career.
Are you a man that keeps up with your statistics?
Very much so and I try achieve the highest win rate possible. If around one in every seven runners is a winner then I am content. You just have to get your horses fitter and faster than the next guy.
You have really dominated the L'Ormarins Queen's Plate and J & B Met race days over the recent few years?
I can answer that quite simply – If you owned a racehorse would you rather lead it into a crowd of fifty thousand or five people? Most people own horses for the excitement and that's what we offer.
Where are your stables based and how many horses do you have in your care?
My stables are based in Cape Town where I have 100 boxes. I also have a stable in Port Elizabeth with 38 boxes which I would like to expand. I really enjoy racing down there.
Horseracing has changed a lot over the past two decades as there are many more trainers around, making it much tougher to acquire loyal support from patrons. In order for a yard to be extremely successful it seems that marketing has become a very important tool. What are your thoughts on this?
I see a lot of trend changes. I don't think racing has even got anywhere close to where they should be on social networks. Snaith Racing has recently started to market on social media platforms such as Twitter, Facebook and Instagram.
Who is your biggest patron?
Unlike most yards we do not have one main client but rather a spread of amazingly loyal clients. I love the owners we have built up and consider myself to be lucky to be associated with so many amazing people. Lots of them have become close family friends.
Jonathan and Justin
Does the Snaith yard have a marketing team or a website?
Jonathan handles all our marketing. We have a website – www.snaithracing.com and you can follow us on Twitter, Facebook and Instagram.
To what do you attribute your most recent success?
John Freeman joined our stable recently and has become a tremendous asset and is an integral part of our team. I consider him to be the most knowledgeable bloodstock agent in South Africa.
Does the yard have a stable jockey and sponsor?
Richard Fourie will return from Hong Kong and will be stable jockey for the new season starting August 1st. We do not currently have a sponsor but are looking for one :)
Do you have any immediate goals?
I would like to break the all-time South African record for most winners in a season and I am praying that by the time this interview is printed that I have recorded over 174 winners. I am currently on 172. Like every trainer I would like to be Champion Trainer in South Africa but it is proving extremely difficult if you are not racing in Jo'burg as it is decided on stakes, not winners.
The Snaith yard is an extremely professional outfit. Tell us about the composition of your current training team?
It is exactly that - a team. No one complains as to who does what but rather just gets the job done. My father is still very much involved and comes down every day, his knowledge and advice is instrumental in our success. Judy Pickford has been my assistant trainer for twenty years and I wouldn't be where I am today without her. Jonathan runs the whole ship and steers us in the right direction.
Which jockeys do most of your track work?
Craig Du Plooy has been a tremendous help this season. Gareth Wright, Karis Teetan and the apprentices have also ridden a lot of my work. Bernard Fayd'Herbe may also ride work once every 6 months :)
What can the Snaith stable offer to any potential clients?
We offer VIBE in an environment which is very social where you will enjoy your racing with people who are completely transparent and honest. A stable where your horse will be happy running around in acres of grass paddocks with constant visits to the beach. A happy horse is a good horse.
What training aids does the Snaith yard have for their horses?
Our opposition is reading this!!
You have had some great jockeys ride for you over the years. Who would be the one jockey that stands out in your mind as being closest to the 'perfect package'?
I sadly got Felix Coetzee near the end of his career. If I had to choose a jockey in SA to set the standard for all young apprentices and jockeys it would, without a doubt, be Felix. What a professional sportsman and legend of SA horseracing!
You have enjoyed plenty of success with the grey mare Dancer's Daughter. Tell us about her and where is she now?
She is at Highlands. We recently purchased her yearling by Dynasty this year called Imibala. He is grey just like his Mom.
What other top horses have you had over the last few years?
Dancer's Daughter, Russian Sage, Gimmethegreenlight, Run For It, Jet Explorer, Ebony Flyer, Captain's Lover, Solo Traveller, Sparkling Gem and John Freeman.
What has been your most memorable achievement to date?
This season when breaking the South African record with 7 wins on a single day.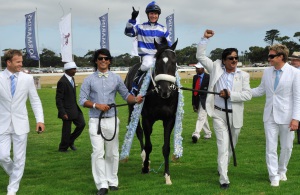 You recently had the top class colt Gimmethegreenlight win the Grade 1 Queen's Plate for you but he unfortunately suffered an injury and was sent to stud. How good was he and what injury did he sustain?
Gimme injured himself in Jo'burg while being prepared for a GR.1. He beat Variety Club in the Queen's Plate going away and I believe he was just coming into his best. He is standing at Varsfontein who are high class breeders so he couldn't be in better hands. I will be very surprised if he doesn't have winners with a farm like that behind him. I will most certainly be sending my two mares to him.
You are sure to have two strings to your bow for the Vodacom Durban July. The first being the highly regarded son of Dynasty, RUN FOR IT, who is showing signs of his best form since being gelded. He has had two promising comeback runs and there isn't any doubt about his class. His path to the July has been brilliantly handled and he is the best handicapped runner in the race. Have you noticed any major difference in him since the gelding and how has his work been?
He is a completely different horse and I am just upset I didn't geld him earlier. We had a plan to get him into the July with the least weight possible and off 56.5kg's he has to be a serious contender, if he produces his best form. He is producing some top notch work back home.
You have openly stated that, in your opinion, he is the horse to beat in the July. Would you be surprised if he was backed-in to start favourite for the race?
I wouldn't be surprised if he was backed into favourite which seems very likely right now. To be quite honest if he was 50-1 or 5-10 I would not fancy him any more or any less. I don't take much note of the betting but more on what sort of work the animal is producing back home. I would prefer it if he were at longer odds and the pressure not as great!
Run For It
Which jockey have you engaged to partner him?
Sean Cormack.
Very importantly, will he be fitted with blinkers for the big race?
No, he will not wear blinkers.
What draw are you hoping to get for him?
1.
(Ed: Justin drew 1 for Run For It!)
Your other contender for the race is the fast improving Jet Master gelding, JET EXPLORER who showed an impressive turn of foot to win the Betting World 1900 very easily under jockey Sean Cormack. What did his jockey have to say after the race?
Sean was very positive and said he has improved tremendously. Off a weight of 54kg he will be in the money in the July. He is an honest horse and possibly more reliable than Run For It.
How highly do you rate him and more importantly, do you think that the 2.5kgs he receives from RUN FOR IT is enough for him to beat the latter?
There is very little to choose between my two runners and you would need to flip a coin to separate the two. I will say that I am very happy to go into the race with these two runners with their current well-being.
Which jockey have you engaged to partner him?
We have a few options and will chat to the owners, Mr. and Mrs. Devine, before we make any decision. They are a pleasure to train for and I am so pleased at the success we have had for them over the past few years.
(Ed: Anthony Delpech, 4 time winner of the Durban July will ride Jet Explorer)
Do you have any concerns about the trip?
None whatsoever, I have studied their pedigrees and I will have them fit enough to get the trip. They are either good enough or not, but stamina is not a concern.
Jet Explorer
What draw are you hoping to get for him?
1 :)
(Ed: He is drawn 2)
Who would you consider to be the best horse in your yard right now?
John Freeman.
You normally send out many horses on big race days. Will you be doing the same on July day?
We only have 20 boxes in Durban and hence cannot do our usual big day campaign. We will be lucky to have a handful of runners on the day but quality ones nonetheless.
Please can you give us a comment on each of your runners for day?
Besides the main race Casual Var will be my strongest runner on the day.
You have a very successful satellite yard in Port Elizabeth which is run by your assistant Juan Nel. You had 7 winners on their big race day recently. Tell us about that achievement and how carefully planned was that day?
It was a 6 week plan going into the weekend which paid huge dividends. Juan is one of the finest assistant trainers in South Africa which is shown by the amazing results he has had with us.
How easy is it for you to keep track of what happens in that yard and how the horses are progressing?
I make it easy in that I am very hands on and there is nothing in my yard I don't know about. If a horse farts I hear it :)
Who would you rate as the best jockey in PE?
Gavin Venter (grandstand jockey).
Which jockeys ride for you in PE?
Muzi Yeni and Piere Strydom.
Bernard Fayd'Herbe has been with you since you started training. Tell us about your relationship with Bernard and how informative is his feedback?
We invited Bernard to Cape Town when he was an apprentice and we are still using him all these years later. He is a great guy and I have the utmost respect for him as a rider. If only he could ride lighter than 58kgs then I would give him more rides and I would win a lot more races!
You have struck an amazing vein of form throughout the country, recently. What do you put this down to?
You have heard it before but we just work harder than our opposition. There is no super wonder drug that makes horses run faster, but rather that getting your hands dirty pays off.
You have said that you will not be putting much pressure on your 2 year olds as they normally get too high merit ratings. Do you think this policy is paying off?
Not now but long term yes. Handicappers have it all wrong. If you win the first Juvenile race first time out you usually get a 90 plus for beating the worst horses possible. You take the same horse, run it 8 months later against far stronger opposition and you will get an 80, it just makes no sense to me. Handicapping is not easy, it's an opinion after all, but now and then these guys get it chronically wrong which is when I get aggravated.
How do you go about buying yearlings? Do you have a team researching and vetting horses before you see them?
I leave this to John Freeman, my father and Jonathan. They are an amazing team and I attribute most of my success to all the hard work they do at the sales. We vet and scope every horse we purchase.
What are your short/long term ambitions?
Short term it is to break the all-time SA record of number of wins in a season and long term to be Champion trainer of South Africa and to get my polo handicap up to a 6 :)
Would it be fair to say that you are involved in breeding and pedigrees? Which of the current South African stallions really excite you?
I am giving Dynasty a full go and believe he is on his way to the top. Silvano is hard to ignore, he is killing it right now. I have done really well with Trippi this season and am 100% behind him.
Do you ever have a bet on a horse or is your enjoyment limited to training the winners?
I am not a betting man. I think it is a conflict which would cloud my judgment. Plus I have heard of it being the downfall of many trainers.
What are your main interests outside of racing?
I play polo and I run a lot. I was hoping to do the Knynsa half marathon this year but it falls on the same day as the Durban July.
Your brother, Jonathan, helps organize the wonderfully successful L'Ormarins Queen's Plate. In your opinion do you think he should be involved in helping organize some of the other major racing events in the country?
Jonathan is keen to help and it will depend on whether the new guys can think on the same level and think out the box. Jonathan is already talking about the possibility of another race day which is exciting for WP Racing. I really don't think WP Racing can afford not to use him. I know he can make all the difference we need to turn the game around.
Do you have any new marketing initiative in the pipeline?
We have a syndicate initiative going right now which aims at guys between 25 and 35. An age gap which is pretty much non-existent in racing circles. The syndicate is Royal Vintage Racing and you can contact them through the website
http://royalvintageracing.wordpress.com/
if you are keen to own a racehorse in an inexpensive way and throw a huge vibe.
Does the old maxim, "Behind every successful man is an equally successful woman," apply to Justin Snaith?
I have a long-term girlfriend Lauren Johnson. She is a very lucky girl :)
Get your free access to Winning Form South Africa by joining Hollywoodbets.net and
clicking on Form Guide! The best racing guide in South Africa!

If you haven't got an account, click here to open one today!