Former professional jockey and now turned accomplished racehorse trainer GAVIN VAN ZYL will turn 54 years of age on Gold Cup day, this Saturday. Gavin rode for exactly 30 years as a jockey and in that time built up a reputation as a talented, hardworking and honest jockey. He was rewarded for his skill and dedication by being given his Springbok colours. Then, life changed completely for Gavin as in 2007 he made the bold decision to become a trainer and started off with a mere 4 horses at his Summerveld base. However, due to his likeable personality and his almost instant success, he quickly enjoyed the support of many loyal patrons. He has always been a great horseman and the results continue to bear testament to this statement. Gavin has produced top quality Grade 1 runners such as The Apache, Slumdogmillionaire, Seal, Franny, Bulsara and Eton Square over the years. During his six years as a trainer, he has won 22 feature races, including 5 Grade 1 races. The stable has also successfully formed Team G Racing Syndicate and details thereof may be found on their website www.teamgracing.co.za. Gavin will be hoping for a perfect birthday present this Saturday, as he saddles up two of his stable stars, SEAL and SHOGUNNAR to contest the Grade 1 Gold Cup to be run over 3200m at Greyville. He expects both runners to be very competitive and WINNING FORM and all the yard's followers will be watching their progress closely.
What is your name?
Gavin Harrison van Zyl.
What is your star sign and birthdate?
I am a Leo and I was born on the 27th July 1959.
Where were you born and where did you grow up?
I was born and grew up in Johannesburg.
Where do you live?
I live at Summerveld which is really convenient for me.
Tell us about your family?
I am married to Shannon and have been married for 34 years. We have 6 children but Derek passed on in 1992. My daughter Melissa (29), son Gareth who assists me in KZN, my son Chesney who runs the Gauteng yard. Richard is 20 and he is on mission for our Church in the Eastern Cape and my daughter Felicity (19) who is on mission for the church in Auckland, New Zealand.
Do you have a 'nickname'?
No, I don't.
Favourite food?
I would say leg of lamb with roast potatoes which I really love with trifle pudding to finish.
Favourite drink?
Cola tonic with soda water.
Favourite music?
I love music especially if it is easy on the ear. I am not into the ear bashing stuff.
Favourite sport?
Golf. I play off a 20 handicap.
Favourite soccer team?
My favourite teams are Manchester City and Chelsea and any team which plays against Manchester United, Ha! Ha!
Favourite holiday destination?
I love game farms.
What book are you reading at the moment?
A book about the great Sir Henry Cecil.
Which characteristic about yourself do you like the most?
I have a good sense of humour.
Is there anything the public don't know about Gavin van Zyl that they would be interested to know?
During my career as a jockey I had different businesses starting with a furniture business in 1981 right through to a retail outlet specializing in chicken. Unfortunately, I never made any real money from them.
Where did you go to school?
I started at Kenilworth Junior and finished at Edenvale High before going to the jockey academy. I was at Edenvale High with Gauteng trainer Bradley Maroun.
Where did your interest in horse racing begin?
I lived in Standton Street near Turffontein racecourse and met trainers living in the same area. I got to know Michael and Butch Roberts very well and they allowed me to do some work in their yard.
As a jockey, tell us about your stats. Can you remember your first winner?
My first win was on Flight Savon for Terry Ryan over the Greyville 1900m.
Total Grade 1 winners?
As a jockey I won the Germiston November Handicap, the SA Fillies Sprint on Harry's Charm. I won the Smirnoff twice on Mocassin and Special Preview (the best horse I ever rode). I also won the Oaks and the then Keith Hepburn on Count Du Barry.
Best finishing position on National Jockey's Log?
I finished in the top 10 quite a lot and was rewarded with my Springbok colours along with Jeff Lloyd and Tobie van Booma.
Did you ever win a Provincial Jockey's Championship?
I was 2nd twice in 1982 and 1983.
How many July's Met's and Summer Cups did you win?
None as a jockey.
Best finishing position in the July?
I ran 3rd on Double Reef.
Which was your favourite Grade 1 race to ride in?
The July is a great race to ride in.
Best racehorse you have seen in your life, either in the flesh or on the television?
Frankel was really special.
Mention the different countries you rode in?
I rode in the USA, Mauritius, Macau and Zimbabwe.
Overseas achievements i.e. Jockey's Championships, Grade 1 winners etc.?
I won the Macau Guineas and Gold Cup. I also won many features in Mauritius.
Most competitive jockey you have ridden against?
I must say Michael (Muis) Roberts.
Best friend you have made within horseracing?
I have made many wonderful friends in horseracing and it would be unfair to single any one of
them out.
Best advice you have received about this wonderful sport, from whom did it come and more importantly, what was it?
When I was still at the academy Cyril Buckham said I should run from ring to ring and try to ride as many horses as possible and always to be pleasant. He said hard work and determination would take me a long way.
Most famous racing person that you have met?
Gary Player.
Favourite South African racecourse?
Greyville.
Favourite overseas racecourse?
Sha Tin.
What was the reason you stopped being a jockey?
I was a jockey for 30 years to the day and felt that my body was becoming sore.
In which year did you take out your trainer's licence and how many horses did you start with?
I got my licence in 2007 and started with 4 horses.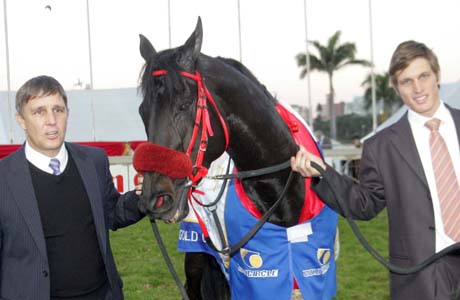 Gavin with son Gareth and The Apache
Who was your first owner and which horse did he own?
My first owners were Alan Mellor and Errol Budlender and they owned Laser Fan.
Tell us about your first winner as a trainer?
It was my second runner, Laser Fan who won over 1200m at Scottsville.
Tell us about your first feature winner?
Laser Fan who won the Flamboyant Stakes at Greyville.
Where are your stables based both in Natal and Gauteng?
I have stables at Summerveld and Turffontein.
Tell us about the team that assists you?
In KZN my son Gareth assists me with Open Sea and Jessica. Chesney runs the yard at Turffontein and he is assisted by Clayton Matthee and Penny.


Tell us the role that your sons, Chesney and Gareth play in your stable?
Gareth is being trained in every aspect of being a trainer so that he can eventually take out his own licence. Chesney is running the Turffontein yard and he and I discuss the various horses and their progress.
Does your yard have a website and sponsor?
www.teamgracing.co.za. We do not have a sponsor.
Does the yard have any mechanisms such as a treadmill or walker?
Yes, we have a treadmill plus all the mod cons to assist horses to reach their potential.
What gave you the idea to start your very successful Team G?
It is based on what some Australian trainers have been doing and there is also a big syndicate in England.
Which would you say are the best horses owned by Team G?
I would single out Grays Champ and Snappy Lad.
Treadmill
Which is the most successful horse owned by Team G?
Grays Champ.
Do any of your Team G members ever suggest buying horses overseas?
Not as yet.


What is your procedure once you have bought a yearling at a sale?
If it is an early sale they will go to a spelling farm. If it is a National Sale they will come straight into the stables.
Are you considering joining the South African trainers and owners who make the trip to Australia to buy, mainly, yearlings?
I have bought in Australia once before but I find my patrons are not keen to pay such big prices for those horses.
Much has been made about the feed horses get. What are your views on the feeding of your horses?
It is most important. I am feeding a well-balanced feed from Equifeed which I find does the job very well.
Let's get into some of your better horses that are doing well for you right now. NO WORRIES heads the list. He ran a great race in the Vodacom Durban July. Tell us how you acquired him and tell us about his owners?
He was bought at the Summerhill left overs ready to run sale for R400 000. He was bought by a new patron of mine Mr. Brian Burnard who especially wanted horses which were ready to run.
How has he been since the Vodacom Durban July and what are your plans for him?
He took his race very well and has come on since then. He will run in the Champions Cup and I expect a good run with Weichong Marwing riding him.
The other horse nominated for the Champions Cup is former runner-up BULSARA. How has his prep gone into this race and what chance do you give him?
He was 2nd in the Cup Trial and then had a prep run in the Mercury Sprint. He will be spot on for the Champions Cup.
The Gold Cup officially brings the season to a close. You have SEAL and SHOGUNNAR in the race. Tell us how they have been since the July and what did you make of their runs?
They both pulled up sound. Seal never got into the race and a line may be put through that run. Shogunnar was running on resolutely in the July. He is working well and I expect him to be competitive.
SHOGUNNAR is still a one time winner. Is there any reason why you haven't gone the novice, graduation route to try to get more wins out of him?
He could have gone that route but he has been competitive in feature races.
What do you make your dangers in the Gold Cup?
I think Kolkata will run a big race.
Please can give us a comment for your other horses running on Gold Cup day:
Race 1: FLITTER (5) – It is a competitive field and I will be happy if she runs into the quartets.
Race 5: ALONG CAME POLLY (4) – I think she can run into the first three with a winning chance.
Race 6: HEART OF A LION (7) – He is coming off a hat-trick. If he reproduces his last run from Gauteng, then he has an undeniable chance of winning. The only negative is his bad draw.
Race 6: SAGETATOR (12) – He was disappointing last time and I am hoping for improvement.
We cannot forget about the very good SLUMDOGMILLIONAIRE. What setback did he suffer? He had a minor setback but he has been sold to race in Dubai.
Tell us about his owner Andries Greyvenstein?
Slumdog was the first horse he ever owned. I met him through my son in law and he started asking about horses. That is how he got involved.
What do you make of HEART OF A LION and is he your Dingaans prospect?
He is a really promising sort and he is my Dingaans prospect. His best trip would be 2000m.
It looks like you have some decent younger horses. Name some of the better ones that the public can follow in the future?
Franny when she comes back. No Worries, Along Came Polly, Shogunnar, Heart Of A Lion, Princess Julietta and Mohave Princess.
The Gauteng season is around the corner. Have you discussed which horses you will be sending to Chesney for the big races?
Nothing has been finalized but we will have a good string in Gauteng.
At this stage which of your horses have you earmarked to contest Cape feature events?
I am still thinking about which horses could be suited to race in the Cape.
Gavin and Chesney
Who does your ride work in Durban?
Brandon Lerena and Billy Jacobson.
Does Chesney have a stable jockey in Gauteng?
Chesney does not have a stable jockey.
How much influence does what a jockey tells you have on you when preparing a horse for a big event?
I am not influenced as I monitor my horses very carefully and like to back my own judgement.
Do you think the attitudes of apprentices have changed in recent times?
Yes. Unfortunately they seem to want everything to be their way or no way.
Who are some of the better apprentices at the moment that could hold their own in the future?
I am using Keagan de Melo. I am very happy with him.
What would you consider to be the highlight of your career as a trainer?
It was great for me when Bulsara and The Apache ran 1st and 2nd in the Champions Cup in 2011.
How many feature races have you won?
At the last count I had won at least 22 features.
Which feature races have you won?
The Apache won The Dingaans, Daily News 2000 and the Champions Cup. Slumdogmillionaire won the Sea Cottage Stakes, SA Classic and the Horse Chestnut Stakes. Eton Square won The Jubilee. Seal won The Derby, Wolf Power, Gold Vase, Aquanaut Handicap and the Jubilee Handicap. Bulsara won the Graham Beck Stakes and the London News. Franny won the Ruffian Stakes, Pretty Polly Stakes and The Magnolia. I would say that Slumdogmillionaire and The Apache are the two best horses I have trained to date while Seal is a real soldier. Franny is the best sprinter I have had so far.


You are a professional trainer and make your living by it but what else keeps you passionate about being a trainer?
It is the perpetual search for that next SPECIAL horse.
Do you think the general public were inspired by watching horses like Frankel in action?
Definitely, they are what keep the crowds coming back.


Does the old maxim, "Behind every successful man is an equally successful woman," apply to Gavin van Zyl?
Absolutely. My wife Shannon is the backbone of my marriage. She is behind me in all that I do and I will be eternally grateful to her.