Winning Form took the opportunity to talk to some of the jockeys taking part in this year's J&B Met, and find out how they are feeling about their rides in the big race, as well as who they feel will be the horse to beat. We speak to Piere Strydom, Anton Marcus, Anthony Delpech, Corne Orffer and more.
Corne Orffer's fortunes took a big turn for the better when he became involved with trainer Brett Crawford. " I have a lovely ride on Captain America in the Met. I give him a big chance. He stumbled at the start of the Queen's Plate and he also cast a shoe. In the Met I will try to switch him off in the early part and then run on strongly in the closing stages. I make Legal Eagle the horse to beat but I am very happy with my ride."
Anthony Delpech is riding better than at any time in his career but he could not tell us much about Mac de Lago. "I have not ridden him since his unplaced run in the SA Classic but trainer Weiho Marwing has him fit and well and is happy with his prep. This is a tough race and I make Legal Eagle the one to beat."
Former KZN based apprentice Donovan Dillon has moved to the Cape and is making the most of his move. He has teamed up with Helderberg Blue who he says he has really 'clicked' with. He has the reputation of being a difficult horse but him and I get on well together. He has had a perfect prep and I feel he is going to run a big race. I believe Futura and Legal Eagle are the horses to beat."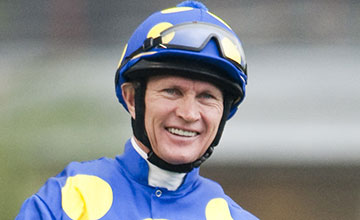 Champion jockey Piere Strydom as a matter of interest had ridden 5 050 winners in South Africa at the time of writing. When asked about his ride Legislate, he had this to say. "I am very happy to be riding him but I must say that he can get a bit strong in the race which makes him quite a tough ride. Legal Eagle beat us last time and he now meets us on half a kilo better terms. This makes it even more difficult to beat him but, as always, luck can play it's part. I expect a big run from him." were Piere's confident words.


Gavin Lerena will be leaving for Hong Kong at the end of February and he is hoping for a good
send off in the Met with Master Sabina. "He pulled a shoe in the Queen's Plate and could have finished closer. His work for the Met has been done with Promise riding him. Promise is a top workrider from the Woodruff yard. He is very happy with his prep. "In my opinion Legal Eagle is the horse to beat." said Gavin.
Anton Marcus has very few equals in South Africa. It was a real pleasure speaking to him about his ride, the ruling favourite Legal Eagle. "He is definitely one of the top contenders but he does have opposition. I think the five to follow are Futura, Legislate, Captain America and Smart Call.  Legal Eagle has done everything asked of him and deserves to be favourite. The race is not over and he will have to be at his best to win. I must say that since I have been able to ride a gallop on Smart Call I am very impressed. She is a lovely filly and is in with a big chance," were Anton's parting words.
Comments sourced and provided by Winning Form.