Port Elizabeth based trainer YVETTE BREMNER has been involved in horseracing since shortly after finishing school. After earning her stripes with the late Stanley Greeff, she went on to assist in two other yards before making the bold move to take out her trainer's licence in November 2002. Such is her tenacity that Yvette has held her own in this male-dominated sport and has accumulated 415 winners in just over a decade. She has the backing of some really prominent owners and her star charge, BLAZE OF FIRE recently won the PE Champion Horse of the Year award. She also enjoyed her most successful season last term where she saddled 68 winners, including a 3rd place finish in the Grade 1 Champions Cup at Greyville during the winter. This Friday, Yvette saddles CELTIC FIRE and COPPER PARADE in the Non-Black Type Cradock Place Stakes to be run over 1200m at Arlington and she expects both runners to give honest performances. WINNING FORM would like to thank Yvette for her time and wishes her everything of the best in her future endeavours.
What is your name?
Yvette Bremner.
What is your star sign and birthdate?
My star sign is Cancer and I was born on 13 July.
Where were you born and where did you grow up?
Hartswater. We moved to Knysna when I was 11. After finishing school I lived in Cape Town for a year and then moved to Port Elizabeth where I worked for the late Stanley Greeff.
Where do you live?
Port Elizabeth.
Tell us about your family?
I have a sister and a brother, both older. My mom lives in Jeffrey's Bay and my dad has passed away. My family is Hedley McGrath, his two sons, Joshua and Travis and our daughter, Kayla.
Do you have a 'nickname'?
Mr. Greeff gave me the nickname "blue eyes" only because he could never remember my name.
Favourite food?
I love most foods!!! If I had to choose one it would have to be pasta.
Favourite drink?
A good red wine.
Favourite music?
I enjoy a lot of different types of music. Andrea Bocelli, Nickleback, Eros Ramazzotti, Tim McGraw, Rihanna and Pink.
Favourite sport?
I like most sport, from athletics to rugby, tennis, swimming, golf, soccer, horseracing, rodeo etc.
Favourite author?
Philippa Gregory, Peter James and Colin Forbes.
Favourite soccer team?
Barcelona.
Favourite holiday destination?
Italy, Montana, Canada and Zanzibar.
What book are you reading at the moment?
Dead Man's Grip by Peter James.
Which characteristic about yourself do you like the most?
Could be a fault, but I always try to see the good in people.
Is there anything the public don't know about Yvette Bremner that they would be interested to know?
That I loved doing ballet and that I would like to have been a jockey.
Where did you go to school?
In Knysna.
What sort of student were you and what did you really enjoy studying?
I really enjoyed school mostly because of all the sport. School itself was good. My favourite subjects were biology, english and accountancy.
What tertiary education did you attain?
I went to Cape Town for a year and then went straight into a training yard. There weren't any courses to study if you wanted to train race horses, just the normal exams you have to write to get your trainer's licence.
Tell us how your interest in horseracing began?
I always loved horses, but never wanted to do show jumping or showing. I loved the speed.
Who were the trainers you worked for before taking out your licence?
Mr. Greeff, Mr. Coetzee and Paul Lafferty.
Which were some of the better horses you worked with when you were with them?
Mr. Greeff had Western Boy, Coal and Spark Of Peace. Mr. Coetzee had Black Flame and Tropical Gem.
In which year did you take out your licence?
November 2002.
Have you ever felt that being a woman put you at a disadvantage with the men trainers?
I can't say that I ever have. I have been very lucky.
How long did it take before you felt really secure about being a trainer?
About a month. That's when I had my first winner.
Who were the people who gave you the most support when you decided to go on your own?
Paul Lafferty gave me the yard. That was a good start, and then Mike de Kock, Alec Laird and Joey Ramsden always helped me with good horses and paying owners.
Who were your first patrons and are they still with you?
I had quite a few owners when I started and yes a lot are still with me. Mary Slack, Hedley McGrath, Eddie Rudman, Mark Wright, Michael Bosch, Richard Staffen, Michael Miskin, Mike de Kock and Joey Ramsden.
Can you remember your first runner and winner on your own?
Yes! A filly Joey had sent me, Nine From Tara. A filly his father had named after his dog which had nine puppies. I remember Joey nearly falling off his chair laughing when he told us.
Which were the best horses you trained when first starting out as a trainer?
Flaming Pink, Millennium Bug, Wakarra and Corlia's Venture.
How many horses did you start out with?
28.
How many horses do you train now?
70.
Tell us about the team which assists you?
Carl Hewitson is an ex jockey with lots of experience, who provides us all with loads of humour. Barbara Badenhorst, a very capable young girl who surprised most of us by how far she has come in a very short time. Janet Badenhorst does office work and Sandra Vlooh does the accounts. And then we have Hedley, Hurricane Hedley. He is our PRO.
Muzi Yeni is your stable jockey. How did this partnership come about?
After Karis had been invited to ride in Hong Kong we put out feelers for a replacement jockey. We had a few in mind, but the deciding factor was that Muzi could ride any weight and that everyone gets on well with him. We're not a stable that has a lot of changes. Everyone goes through a quiet stage some or other time and I think it is more beneficial to work through them than to chop and change.
With Muzi based in Cape Town, who are the jockeys that ride work for you?
Wayne Agrella, Teaque Gould and both apprentices Louis Mxothwa and Heavelon V'D Hoven.
How reliant are you on the advice a jockey gives you about the horse he rides in work and in races?
It always helps to get good feedback from your jockeys.
The use of the poly-track will start on the 25th of October. Have you worked any of your horses on it and what do the jockeys/workriders say about the track?
We've put all our horses on it, but have only done slow work so far. The horses seem to enjoy it. No one has had anything negative to say about it, but I'm sure there'll be teething problems which is the norm.
Can you name a few horses that you think will be suited to the polytrack and that could be worth following?
Hard to say, we haven't done pace work yet. I'm sure we will have horses that will perform well on it.
This Friday sees the running of the Non-Black Type Cradock Place Stakes over 1200m at Arlington. You saddle CELTIC FIRE and COPPER PARADE. Tell us about their chances?
Celtic Fire is working well but has a bad draw. Copper Parade is also working well and has the advantage of a good draw..
You have a busy day on Friday. Please give us your comments on each of your runners?
I am hoping for a good day:
Race 1: SOCIAL CLIMBER (6): Her last run was very good and she was running on so she is looking for 2 000m. However, she does prefer Fairview to Arlington.
WHITE FLIGHT (9): She is an imported filly who I don't know much about yet but she does look like a staying type.
Race 2: OKLAHOMA ANNIE (4): She is a very difficult filly who should have won long ago. I am hoping for the best from her.
Race 4: GREENACRE (8): It has been very tough for him as he had knee chips removed from both knees. He is not the sort of horse which can be backed as he never runs two races the same.
Race 5: TRAVEL UP FRONT (14): She probably needs this run as she has not had a grass gallop. She is a very nice filly.
Race 6: GUIDED ARROW (5): She won very nicely last time and I think she can win again.
Race 9: MAJESTIC BEAUTY (10): I am trying her with blinkers. I think she is better at Fairview than Arlington.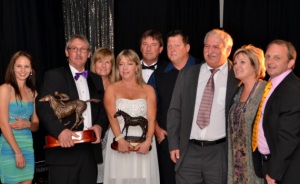 Your horse BLAZE OF FIRE recently won the PE Champion Horse Of The Year award. What are your plans for him for the season?
Our plans are rather limited because of his high merit rating and our local program definitely doesn't cater for him.
Do you have any younger horses that could be worth following in the near future?
Briar King and Swift Wonder.
The Gauteng and Cape seasons will soon be in full swing. Do you have any horses you will be taking to compete in either of those centres?
Blaze Of Fire will have to travel to the Cape.
Last season you saddled 68 winners which put you in 26th spot on the South African trainer's log. How confident are you that you can better that figure this season?
We always try to do better. Our goal for this season is to reach 70 winners.
How many races have you won in total?
415.
Which feature races have you won?
Celtic Fire, the Memorial Mile 3 years in a row. Corlia's Venture and Blaze Of Fire, the Founder's Trophy. Mike de Kock sent me Hot Silk that won the Derby. Refined In Fire, the Glenlair Trophy. Wakarra, the EP sprint. Jackie Maison, the Ladies Bracelet and the owners were kind enough to let me keep the bracelet! The Milkwood Stakes with Perestroika and Scented Ash, the Fillies Guineas.
Which was the first feature race you won and what horse did you win with?
The Ladies Bracelet with Jackie Maison.
Do you have any assistance when buying yearlings or older horses at the sales or off the stud farms?
No, I like to look at and choose my own horses.
When looking at horses to buy what are the main characteristics you look for?
Good legs, athletic and, to a point, the breeding.
Is there a particular fault in a horse which will immediately put you off from buying it?
Poor legs with faults.
Which is your favourite stallion, or stallions, at the moment?
Judpot. I liked him from the minute I saw him. Sail From Seattle, Oratorio, Mambo In Seattle and Var.
Are there any stud farms you like to visit to see the 'babies' before the various sales?
Ascot Stud, Wicklow Stud, Favour Stud, Danika, Benmarne Stud and Milkwood Stud.
Nothing ever stays the same. How have you kept up with the changes that take place in training, especially in the area of feed and training aids like treadmills, hot walkers and swimming pools?
We have a hot walker that works "over time", a real blessing! I've tried various feeds, but always come back to Epol. I doubt I'll ever change again.
Do you ever bet on one of your horses or is your enjoyment limited to saddling winners?
No, I don't bet on my horses. I love saddling winners, but sometimes just seeing a horse improve is like having a winner because you know you're on the right track.
You make your living training horses but is there anything else in your life that you are passionate about?
Photography.
Has having a child changed the way you go about your daily training tasks?
No, not at all. I was back at work 3 weeks after Kayla was born. Now she fits in with everything we do. She loves coming to the track.
What immediate ambitions do you have for yourself as a trainer and as a mother?
As a trainer I'd like to finish in the top ten on the national log as far as winners go. As a mother I'd like Kayla to be happy and succeed in whatever she decides to do.
What would you say gives Yvette Bremner the most inspiration to make a success of your life?
Success should be measured by happiness. You should live life to the full and if you accomplish this and are happy, then you have succeeded.